In this article, we will cover how to effectively include important elements for your Product to increase visibility and customer acquisition.

Product Name: Make sure the name is relevant, simple, and eye-catching. This will generate more interest in your product as it will be the first distinguishing feature of your product that customers will see.
Images: Images are extremely important as they are the first visual queue of your Product that a customer will see. Ensure images are clear and showcase your product at its best. The images that you share may be the deciding factor whether or not someone buys your product or not.
Some examples of imagery you can include are:
Renders
Printed Product
Painted Product
WIPs / artwork
Sharing images of your Product 3D printed, or even printed and painted, proves printability and showcases the high quality that you have to offer.
You've gone through the hard work of sculpting your model and uploaded it to Shop3D, take the extra step to increase the appeal to your potential customers.
1080px*1080px are the recommended dimensions. The maximum file size is 2MB. Supported formats: JPG, PNG.
Please note that if you are including a base in the image, it is important to share a disclaimer in the description that the base is not included in the model.
Description: Adding a detailed description increases the chances of your product being purchased as it provides context and background to your model. You could consider including:
The Product's backstory
The story behind the creation of this Product
If they are part of a collection
Links to other objects similar or relevant that would be interesting for your potential customer
Please see below for an example of a well written description for this product. The Creator has mentioned assembly details, sizes and scale information as well as a really descriptive backstory of the Vampires origins. This is the kind of detail that will make your products stand out from the rest.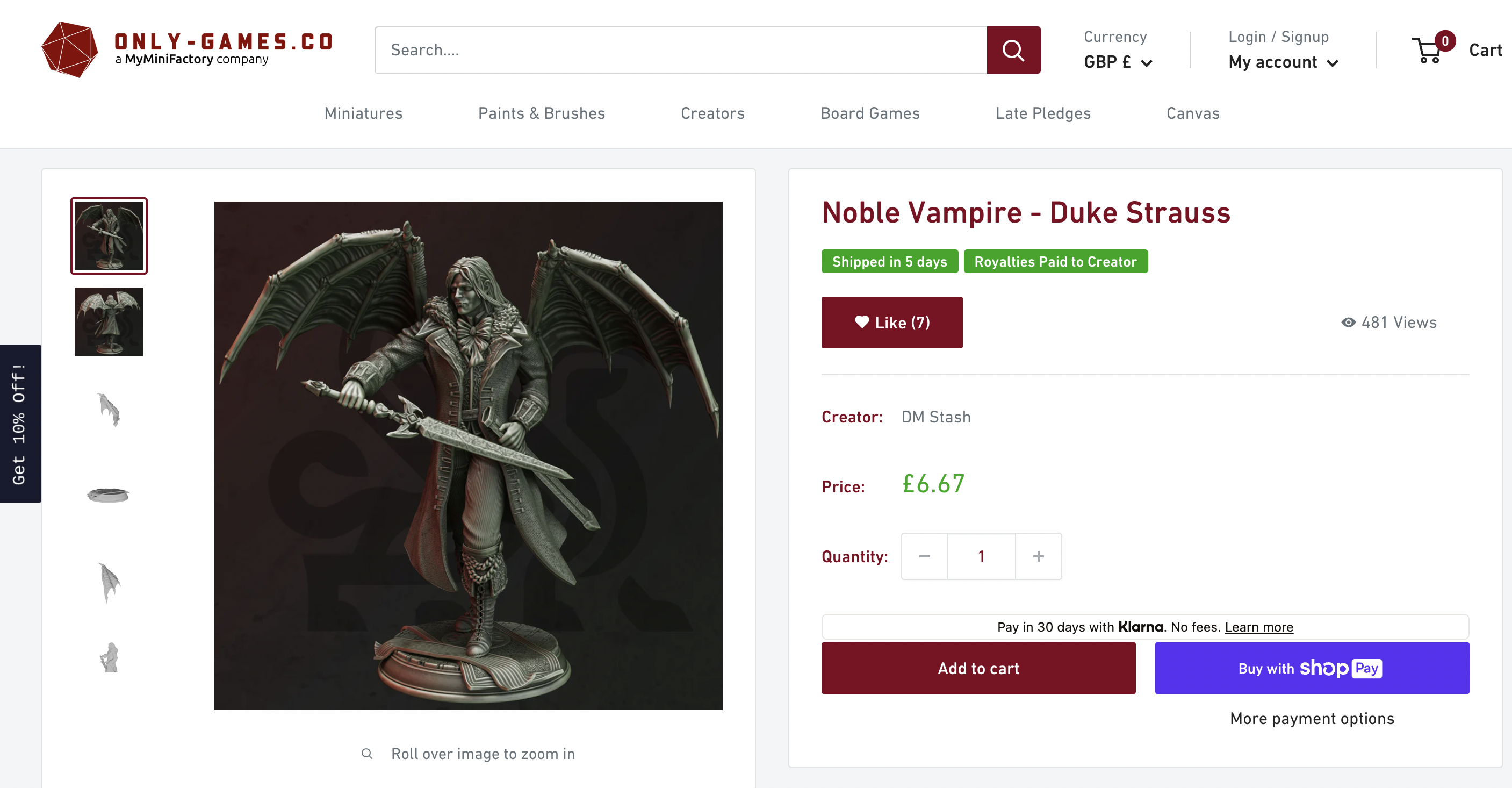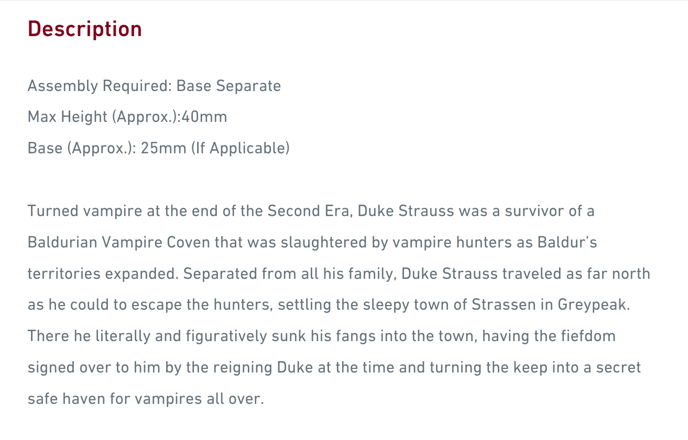 Adding dimensions as well as the scale is an integral part of your upload as it lets both us and the customer know what size the file will be when it is printed.
It is also important to disclose exactly what's included in the Product you are selling so that the customer knows what they are getting. This can be broken down into parts.
Show examples: By showing the quality of your printed object, customers will be able to see if it is worth the purchase, renders only show what the file looks like but a good-quality printed example would make a world of difference when it comes to making sure your products sell.
Filters: Filters allow you to categorize your Products on Only-Games, allowing them to be more easily located by customers. For each filter available, we have provided a variety of options., If you don't see a suitable filter, you are able to create and choose your own.
Here is a list of filters you can choose from:
Grid Size
Base Size
Game Type
Genre
Model Type
Class
Race/Species
Range
Tags
If you follow these steps then you are well on your way to creating an engaging Product and a thriving storefront on Only-Games!