Looking to add bases or other components to your products? Please follow this guide on how to get this added to your object.
Step 1: Go to the Products tab in your Shop3D account.
This will bring you to a page of all the models you have uploaded to your Shop3D account. Each product will have to be published to Only-games or Trajann individually as they all will require descriptions, prices, and filters. You can do this by clicking the edit button on your object.
Step 2: Click EDIT on the product you want to add a base or a component to.
The next step in adding a base is by clicking edit on your object, this will take you to the next page which will allow you to add a base or a component to your product.
Step 3: An option for Non-printed parts will appear.
You will see this button appear, once you click on it, a whole range of add-ons will pop up. You can use the scroll wheel to navigate through the different options.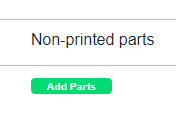 Step 4: Select the size of your base or the component you want.
As you scroll down, you will see options to select among a variety of components and bases of different sizes. Currently, the bases available are 25mm, 30mm, 40mm, and 50mm. You can then add the quantity of bases or components required in the input box and click on the update button located at the bottom of the window.

And that's it! You've successfully added a component or a base to your product. Please note that the price gets added to your Shop3D Cost.