Graphics, logos and templates at your disposal to create effective promotional assets.
There is a dedicated folder of banner templates, MyMiniFactory Product logos and useful assets for Premium Creators here. This is an opportunity for you to put your creative flair on your product or sale promotions.
If you require the MyMiniFactory Graphic Design Team to create banners for you and this is approved by your Creator Relations Rep, please use the folder provided by your Rep or provide the following and share in a public drive for the team to access:
PNGs of all objects you would like features
PNGs of your Logo, and any other relevant logos such as a Campaign logo
PSDs of banners and relevant assets
Any relevant copy, taglines and descriptions
If you do not provide the correct asset requirements within 48 hours of your promotion goes live, this may result in delays or us not being able to proceed with fulfilling the promotion for you.
Below are some links directly to banner templates for specific tools:
Marketing As A Service Templates
---
MyMiniFactory Banners
Banner dimensions for MyMiniFactory primary promotional spaces are as follows:
Row – 2465px x 700px
Newsletter – 2000px x 1000px
Homepage – Live Area 1472px x 785px / Scale Area 1472px x 1125px
Object Page – 720px x 280px
If you are unsure of sizing, margins or bleed area, a guide for each of the different banner sizes can be found here.
Within each of the folders for banner templates, example banners created by the team can be found to provide you with a guide if you need some inspiration when creating your own banners.
Here is an example of an effective Marketing as a Service banner created by the team for Lord of the Print: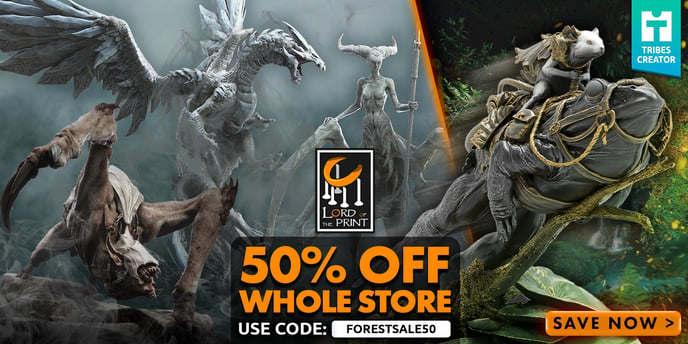 Maximise your Visual Marketing
To get the best out of your promotion there are a few guidelines to follow.
Using Lord of the Print as a case study, these steps will help streamline the process for our team as well as making sure the graphics that we create are of the highest possible quality.
Firstly they kindly provided us with clear concise instructions of the layout they wanted:
"We shared some images on the external assets drive. Is it possible to do as usual? On the same banner, a part with previous models from the store and a part with a model of this month release? The model for this month is the mouse on a frog."
Next, high-resolution PNG assets were provided in the external assets folder. The transparent background PNGs allow quick creation of the banners and make resizing the banners for other promotional spots a lot more efficient.

With all of this complete the team was able to create this effective banner as seen above, which was both visually appealing and financially successful.
MyMiniFactory Badge Suite
Within the drive is a folder containing an array of badges for use with creating your own banners.

PDF Creator - If you as a creator offer PDF content on your store
Earlybird Tiers - If your tribe has an earlybird discount for one or more of its tiers
Loyalty Rewards - If you offer a loyalty rewards program for your Tribers
Welcome Pack - If you offer a 'welcome pack' reward for new Tribers
Tribes Creator - If you also have monthly releases on the Tribes platform
Tribes Exclusive - If the content within your Tribe is exclusive to MyMiniFactory
1 Month Tribes Trial - If as part of a promotion, you are offering a free month long trial of your Tribe.
These help makers identify what you as a creator have to offer at a glance using clear visual markers.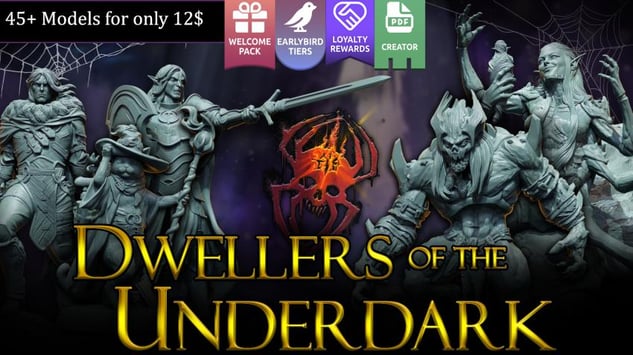 *image by Claymore-Miniatures
Summary
Please make sure to provide the team with assets well before your promotion goes live to avoid any complications or delays with your marketing and promotion. The more you as a creator put into this process via clean assets and concise instructions the more you will get out of your visual marketing and promotional space.
Please don't hesitate to reach out to your Creator Relations Rep if you require any assistance.