Shop3D is where you can upload Products to sell on Only-Games. In this article, we will cover the simple steps to get started.
To learn about uploading objects to Shop3D for distribution on Only-Games, you can watch this short video or read the article below.
---
To begin uploading your product, you must first go to your Shop3D admin and navigate to the 'Products' tab.
Step 1: Select Create Your Products
Select 'Create Your Product' and then 'Upload' under the 3D product option.
From the initial step on the Products tab, you are also able to import your files from your linked MyMiniFactory account, including pre-Zipped files which will automatically be unzipped and imported accordingly.

Step 2: Files
Please see the Best practices when uploading Objects to Only-Games page for more information on what details to put in the fields on this page. You can also work on multiple Products at any given time by making use of the tabs at the top of the page.
Product name: the name of your Product that customers see on Only-Games.
Files: Click to upload your 3D printable files* and include all of the relevant files for your Product. You can also drag and drop them straight into the upload field. Please ensure that the models you upload are not pre-supported as the Shop3D team creates supports to suit their printing methods. There is a size limit of 265 MB per file.
*Supported file types are STL, OBJ. 1 Unit = 1mm
Images: Add some cover images, renders, and a few pictures of the printed object if they are available. This allows customers to see what the item will look like when it's printed. The better the quality and the more details you provide, the more engagement and higher conversion you will see.
1080px*1080px are the recommended dimensions. The maximum file size is 2MB. Supported formats: JPG, PNG.
You can navigate to the next step either by using the tabs at the top or selecting next at the bottom.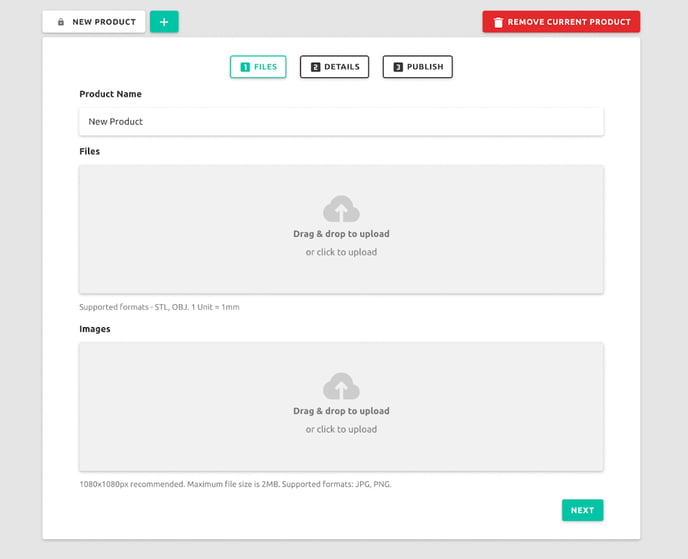 Step 3: Details
Description: Adding a description significantly increases the chances of your product being seen and purchased. A description gives context and background to your Product to increase its appeal.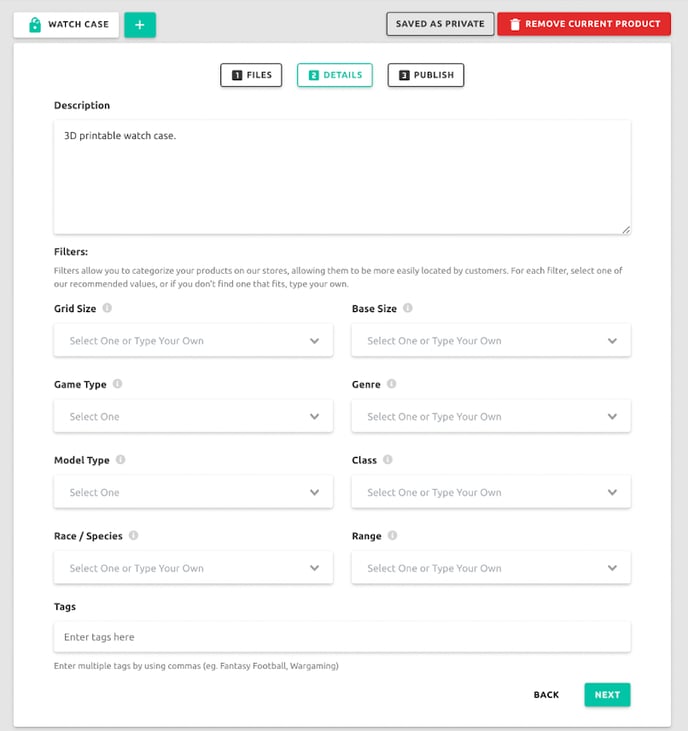 It is important to include the dimensions as well as the scale in the description of your Product. By leaving the description box blank, the name and dimensions of the uploaded file get auto-generated and input directly to the description box and may not be as you would intend.
Here is a good example of a correctly formatted description: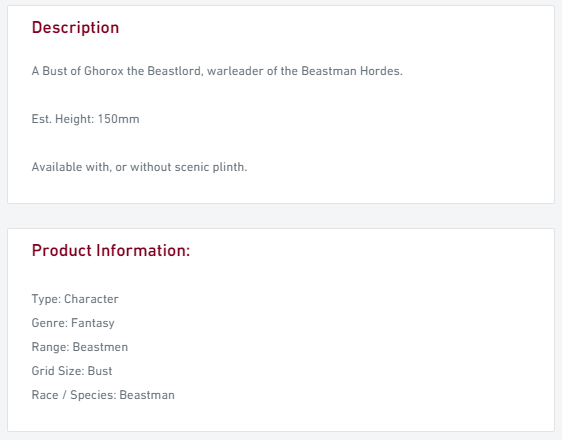 Filters: to categorize your Products and increase visibility further. There is more information on each of the Filter options, just hover over the 'i' icon.
Tags: get more traffic to your Product by including the relevant tags i.e. dragon, wargaming, sci-fi.
NSFW Filter: Any files that contain content that is not safe for work must be tagged as such when editing the object's description and tags.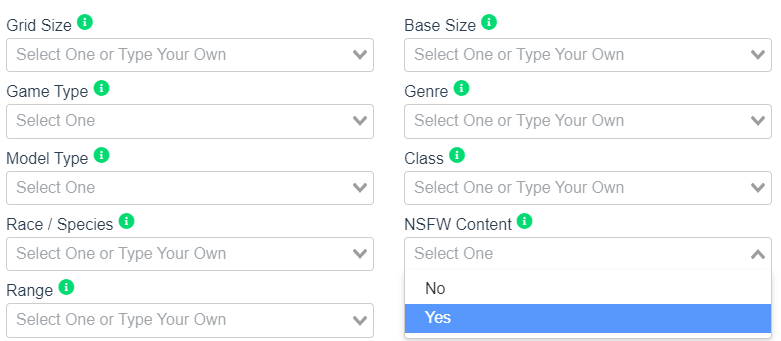 Step 4: Publish
Choose where you would like your product published. Currently, this is just Only-Games. Next, you must choose your desired material. Grey Resin is the default material that we use although there are many to choose from. You will then be provided with an estimated production cost. From here, you are able to choose your 'Only-Games Price' (sale price). The profit margin and actual profit are auto-generated.
The final step is to set the Visibility of your object. You can choose whether you want it to be Private if you are not ready for it to be published or Public if you would are ready to begin selling this Product.
Pricing: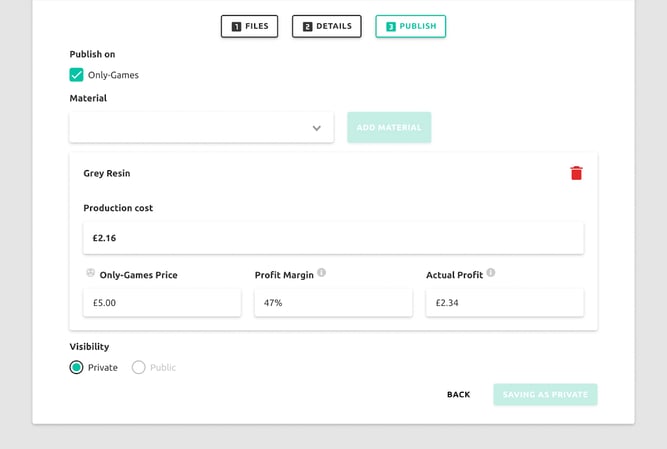 Shop3D cost = Manufacturing cost
Platform price = Retail price on Only Games Platform Profit = Creator Profit
You as the Creator earn the Creator Profit which is calculated by Retail Price - (Manufacturing Cost + 10% of Retail Price)
As an example:
You have a Product that has sold for £10 with a manufacturing cost of £2*
£10 - £3 (£2 Manufacturing Cost) + (£1 [10% Commission from the sale price])
= £7 in Earnings.
*Please note that the manufacturing cost of your product will depend on the volume + bounding box
In this instance, you can see from the image below, the production cost of £2.28 has been auto-generated. This amount will vary due to the size of the uploaded object and the volume of resin needed.